The project starts with the book, Culture vs. Copyright, which aims to explore an extraordinarily sensitive issue of our time: the so-called "Intellectual Property," or exclusive rights to cultural phenomena. Copyrights, patents and other concepts related to governing culture, have become
extremely dangerous today. They slow down cultural development and technological progress. They undermine the free market economy and education. They interfere with human rights and civil liberties. We believe that proper understanding of the matter will bring about global change.
---
The book started, actually, when a Russian researcher Dmitry Sklyarov was arrested by the FBI. Why? In 2001 he gave a presentation on digital security, using a flaw in the Adobe e-book encryption as an example. Rather than being thanked for his efforts, he was accused of violating the DMCA and put in jail. The software development community around the world was outraged. Programmers staged street protests and started on-line discussions. Ilya participated in the protest in front of Adobe headquarters and this got his father, Anatoly, involved in the discussions. Thus this book came into being, post-by-post,
letter-by-letter.
In terms of genre, Culture vs. Copyright is kind of a diary of a naive philosopher: a teacher who discusses issues related to exclusive rights with five first-graders. These dialogues among the children comprise a large part of the book. The teacher becomes inspired by the discussions, explores and develops his own thoughts, doubts, and new ideas, and brings those back to the children, provoking new discussions and writing more. And so it goes. The book explores different aspects of culture, its relationship to human beings and to the human condition, to civilization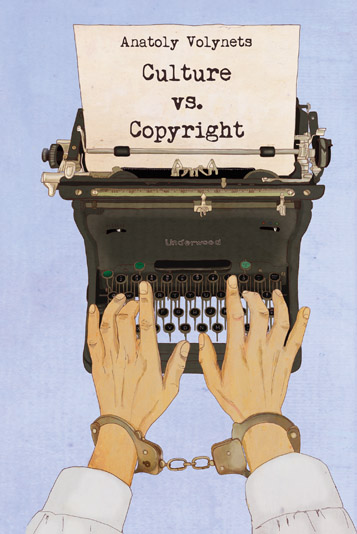 in general and to economics in particular.
The book
builds a premise for the Authoright
license based on the very nature of culture, a normal way to govern cultural affairs.